About Us
Creativity and innovative ideas are prerequisites for our work as a young and dynamic company. Thanks to a high level of imagination and understanding of artistic processes, we can offer you both exclusive home accessories as well as unique decorative items that help in creating a noticeably enhanced living atmosphere. The best thing about our offers is that our products are presented at a price that is affordable for everyone.
Visit our Showroom
More about us
A Closer Look at Our Company
The story of our company, Kunst & Ambiente, begins in the year 2004 with the launch of a small art gallery. Since then, the company has developed into Europe's largest dealer of sculptures and art, and is now being run by six staff members. We have a permanent selection of more than 1,000 statues in stock and we keep on constantly adding new ones to our range of products. Additionally, we are always on the lookout for new motifs that we can offer you. This is why we also travel often. In order to find new inspirations and to keep an eye on the market, we also do not shy away from travelling far away. Vice versa, our exhibits also sometimes cover large distances to get to their new owners. We ship globally, for example to the US, Canada, Singapore or New Zealand. And with a bit of luck, you might also find some of our sculptures on Hawaii.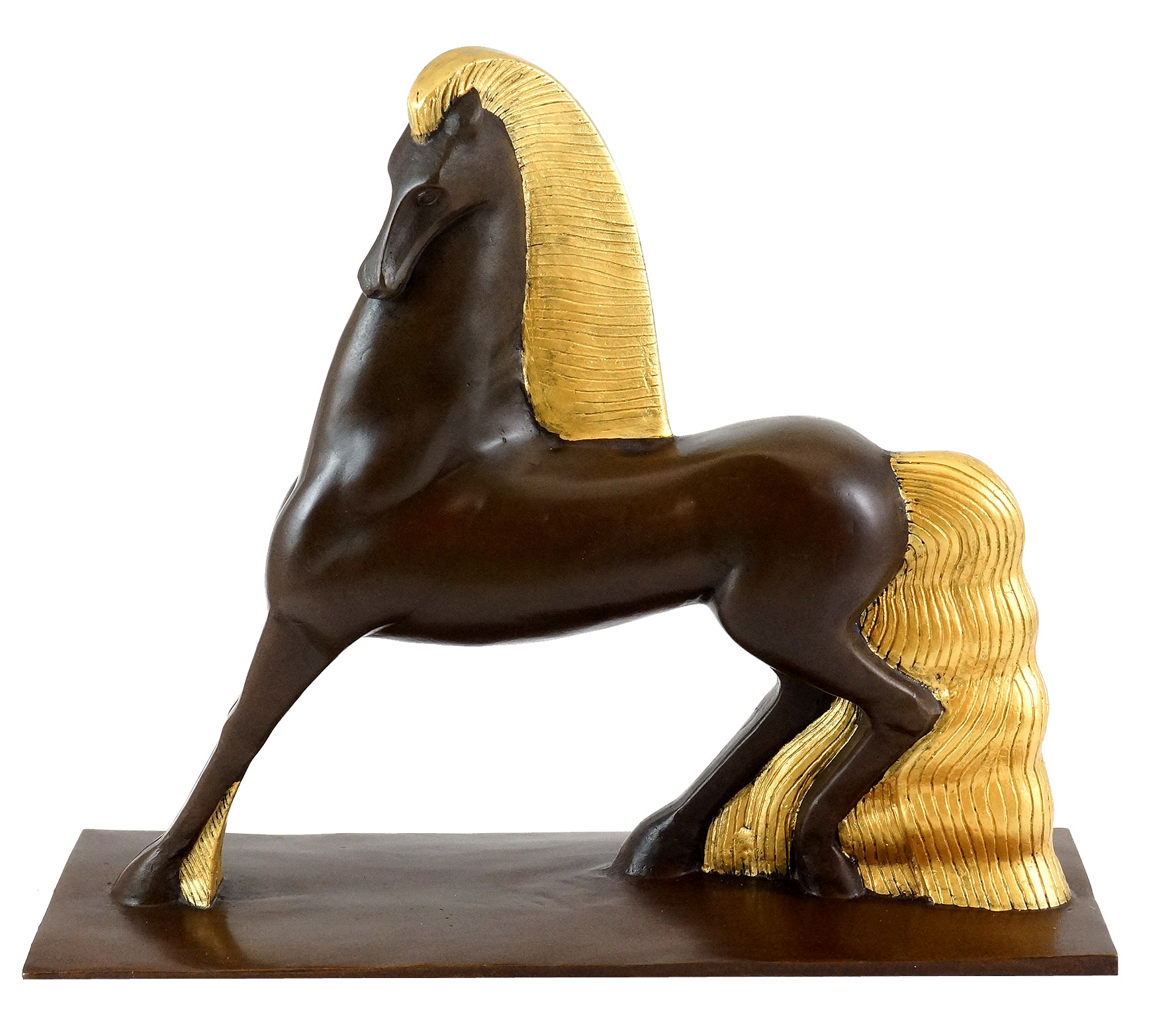 What We Have in Store for You
Are you interested in our sculptures and other works of art? We cordially invite you to visit our new business premises. In 2016, we moved to an area that covers 1,300m² in order to do justice to our ever-growing assortment. We will gladly welcome you in our shop and show you some of the most exciting and extraordinary exhibits in our showroom. Additionally, we also offer you a Cash&Carry option. This means that if you see a piece that you like, you can purchase it on the spot and take it back home with you. Due to our wide-ranging selection, there is something for everyone. Looking for a piece for your business premises, your garden or your home? Just contact us and we will find the most suitable one for you. Even if you are not sure which style might suit your furnishing, or which figurine could appeal to your customers, we can advise you. In individual cases, we also gladly take on commissions and create your piece of art according to your wishes.
Our Cause – To Make Art Available to Everyone
We always strive to keep the prices for our bronze statues and paintings within a range that is affordable for everyone. It is our mission to make art available to everyone. This is why we do not have a problem with arranging an instalment plan for you. Additionally, our exhibits are replicas. This means that we replicate pieces by great artists and thus make it possible for you to enjoy the art of the artist at home or in your office without having to own the original piece. Therefore, we are able to bring works of art directly to your home which you could otherwise only enjoy in museums or private collections.
We Are in Direct Contact With the Artists
We provide you with castings and replicas whose original pieces come from more than 50 different artists. Some of them are historical works that originate from the hands of Dali, Michelangelo or Rodin. Yet we also offer you contemporary art that plays with materials, colours and shapes and which is created by modern artists such as Martin Klein or Miguel Fernando Lopez. As you can see, we have a wide and colourful selection. Would you like a casting of a bronze statue that you once saw in a museum? Do you dream of having a replica of Frederick the Great, enthroned on his horse at Berlin's Unter den Linden, sitting on your desk? We are able to provide those works of art for you.
Contemporary and Eccentric Art For Your Home or Office
However, you can also find modern pieces at our shop. Are you looking for something a bit more eccentric and colourful? This is also something we can provide you with by working with the artist Martin Klein. He does not only create exciting and extraordinary bronze statues, he also works with various materials such as fibre glass, which can shine in a lot of colours. As a consequence, his sculptures can subtly prompt the observer to think about them, or they catch the connoisseur's eye with their sheer appearance.
Multifaceted and Diverse – Our Selection Is Just Like Art Itself
Art is a matter of taste and we know that. Thus, we offer you all possible facets of art. Our selection ranges from artfully designed Art Deco bronze statues and benignly created Art Nouveau pieces to contemporary and even bizarre art. Our assortment is so multifaceted that even fans of militaria and lovers of erotic Viennese figurines will find a new favourite piece for their collections. We know: art is not a luxury, it is a vital necessity! Thus, you will definitely find what you are looking for in the more than ten categories of our shop.
We Continue Age-old Traditions
This knowledge of art is ancient. The oldest art form in the history of humankind is the sculpture. Its most primitive forms were already created during the Stone Age. Back then, works of art were more subjugated to their utility, as the treatment of stones was done in order to create tools. The first artistic sculpture was the Lion man of the Hohlenstein Stadel, which was crafted about 35,000 years BC. Nowadays, sculptures are an integral part of the modern art scene, which is why we have devoted ourselves to this artistic genre. Created from different materials, sculptures and figurines continue to fascinate art connoisseurs with their diverse shapes and forms.
Subdued or Extravagant – We Have Pieces for Every Taste
Bronze figurines are timeless and never go out of fashion, as statuary art is just as flexible as painting. Almost any artistic genre is also represented in sculptures and figurines. Furthermore, bronze figurines exude a flair of unobtrusiveness. The high level of artistry of the artist and the simple elegance of the material ensure a pleasant modesty. Pieces made from bronze discretely adapt to the room design and the already existing home accessories. Contemporary and abstract sculptures, on the other hand, can radiate a strong air of extravagance. They have also been known to enchant many an art expert in gardens and on terraces. Its multifaceted nature makes art one of the most fascinating aspects of human culture.
Real Craftsmanship - The Creation of a Bronze Statue
Our bronze figurines are elaborately created by using the lost wax technique. In this process, a casting is moulded with the help of a wax model. After the wax has been melted out, the form is filled with bronze. In order to remove the casting, it has to be destroyed. This means that during the whole process, both the model as well as the casting are destroyed. This is why this technique is also called "procedure with a lost model". Sometimes it is also called "procedure with a lost form". "Cire perdu" is another name for it. It originates from French and can be translated as Lost Wax. The consequence of this process is that a new model has to be created for a new casting. After the figurine has been freed from its casting, it is elaborately worked on by patinating, polishing and sealing the bronze.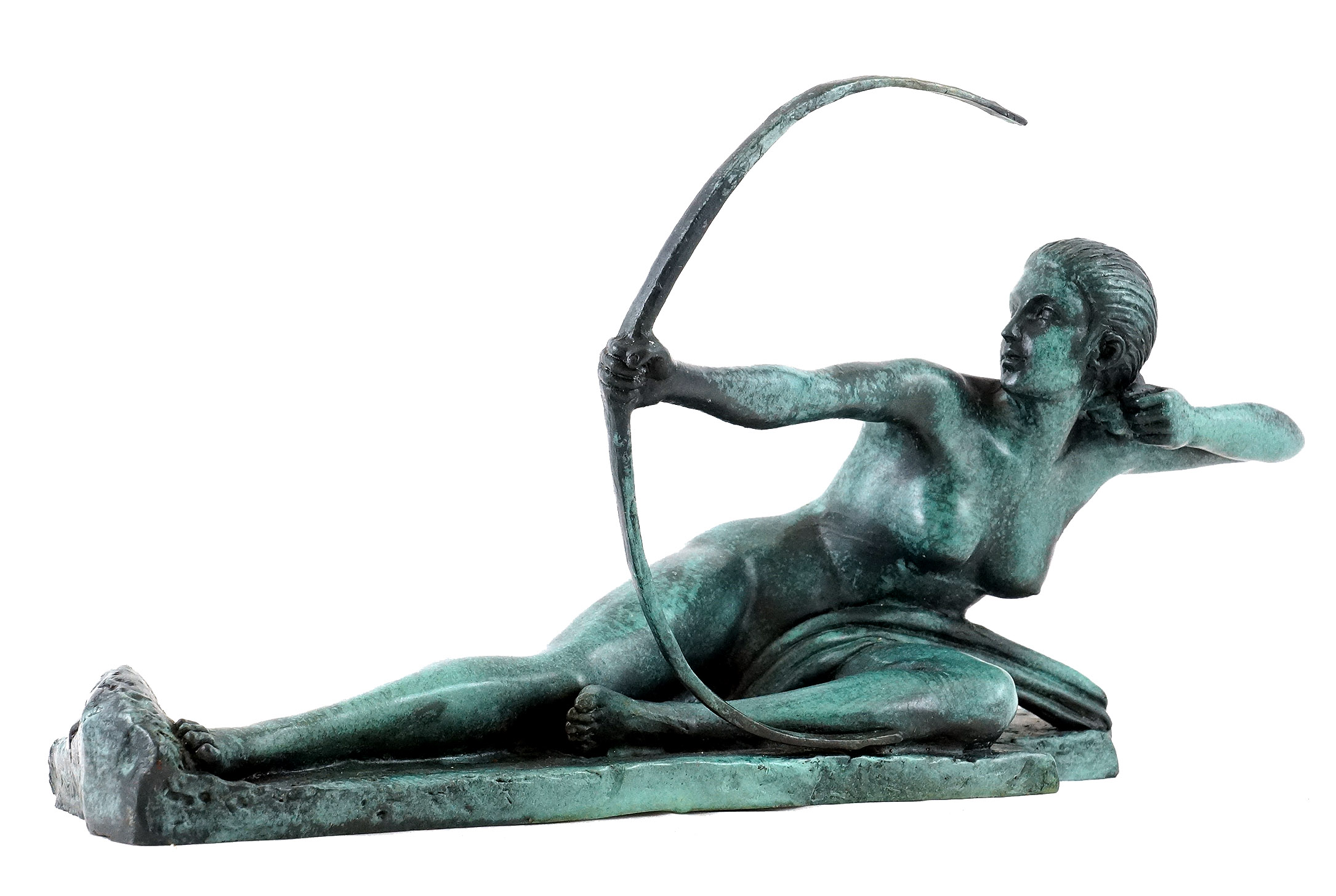 A Procedure With a Long History
This way of casting has been known to humankind for millennia. It has been used at least since the fourth century BC in the field of metal craftsmanship. Starting in the fifth century AD, Bulgaria and Anatolia were some of the centres of metalwork. The procedure was also known early on in Columbia and Central America. Among other things, they used an alloy of gold and copper and created a vast number of diverse ritual objects with it. Later on, all the most important bronze art works of the Middle Ages were created by using this technique. The tradition of this craftsmanship has been preserved to this very day. All of our figurines are created in perfect, museum-like quality and conform to the highest standards. This is what we aim for. Our figurines are in no way comparable to cheap, badly manufactured and substandard Chinese mass-produced goods. Every bronze piece is elaborately made by hand. Additionally, all of our products are sealed and signed..
Here you can find our shop

free shipping
Worldwide free shipping
14 days money back
You can cancel your order
within 14 days
secure payment services
Paypal, Master Card, Visa, American Express and more