What you should know about bronze sculptures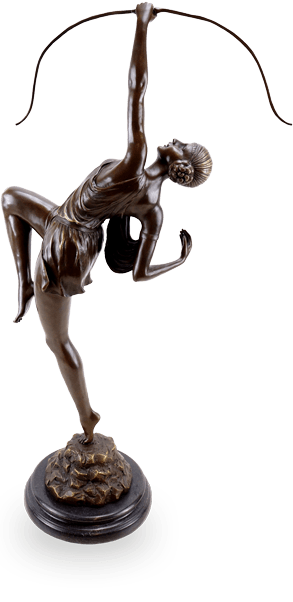 Material of a bronze statue
Bronze is a very hard and at the same time weatherproof material. It consists mostly of copper, which amounts to about 90%, to which about 10% of tin is added. As it is therefore a mix of two metals, the resulting bronze is categorised as an alloy. The advantage of the bronze material of the sculptures and figurines is that, in contrast to other metals, it does not corrode in the usual way. After some time, it is possible that verdigris will cover the surface, but it can simply be washed off with a sponge and some water. Naturally, this should be done with a cleanser that is specialised in dealing with the bronze material, as it brings back the metal's old brilliance. This way it can be guaranteed that the bronze sculpture will keep up its appearance for decades. Yet, one should obtain from using a sponge that is too hard (e.g. a sponge used for stainless steel), as this could lead to scratches on the sculptures that cannot be removed.
Quality criteria for your bronze sculpture
A sculpture that is made of bronze should meet some criteria, the quality of the production being one of the most important ones.
Furthermore, it is of huge importance to consider that bronze builds a patina which develops either as a result of environmental impacts or because it was induced by using chemical substances. The resulting colours may vary: with a high amount of copper, the resulting material will have more of a red colour tint, whereas a high amount of tin will result in more of a reddish brown or even a green or yellow hue.
Individual steps of a skilful production
Bronze figurines and sculptures are usually produced by using the lost wax technique. This work should be done by an experienced bronze caster. First, a wax mould of the object is created, which is then coated in silicone. When the silicone has finished hardening, it is followed by a plaster mould coating which is being reinforced. With it, a wax model is being cast, which is then embedded in fireclay and is consequently able to drain off through little holes during the heating process. Liquid bronze is poured in and after the object has cooled down, it is freed from the fireclay coating. The last step is to work on the surface of the material, which means it is being cleansed, polished and sealed. The finished bronze sculptures are both weatherproof and hardy.
Figurines made of bronze — varieties and differences
Statues and sculptures can take on all kinds of forms. Be it animals, humans, landscapes or geometric symbols such as trapeziums or cuboids. The most popular, of course, belong to the categories of humans and animals. Principally, one can distinguish between antique Greek statues and garden statues of the contemporary art period. Their differences are in the affordability and the processing of the material, especially when one takes into account that the sculptors in the antiquity did not have the same equipment that is used by modern artists nowadays to create those figurines.
Bronze figurines — exceedingly popular
Bronze sculptures are quite popular, especially amongst collectors, but also as exhibition objects on desks or in waiting rooms. In former times, many wealthy people decorated their rooms with these gems, they gave them away as presents or started collections. Especially the handicraft of the figurines was immensely popular with connoisseurs and this was also what made those sculptures so unique. Nowadays, thanks to modern production processes, the highest quality can be offered at a good price. This is what makes bronze figurines affordable for everyone. The offer ranges from animal sculptures and Art Deco figurines to Art Nouveau statues, erotic nudes, military statues and garden ornaments. Additionally, there is also a supply of Greek statues and replicas of many a well-known and popular bronze sculpture.
Bronze animal sculptures — a piece of nature in your home
Animal sculptures made of bronze are popular works of art and are very accurately reproduced. Being a challenge to the artists' ingenuity, knowledge and proficiency, the many species of animals are, depending on their weight and their size, part of living rooms, terraces, gardens and ponds. An animal lover will be able to find their favourite animals in a wide variety of goods and is often spoilt for choice. However, there are four animals that particularly attract both art enthusiasts as well as artists themselves: birds, bulls, cats and elephants.
Bronze birds: animal sculptures that symbolise freedom
Birds made of bronze are among the most popular animal sculptures. They are symbols of naturalness and freedom, and they evoke the calming chirping of songbirds in one's head. Consequently, they provide a pleasant atmosphere. Bronze birds are most often used to decorate fountains or gardens in general, but they also look good in a living room where they take a piece of nature from the exterior to the interior.
Bronze sculptures of cats: aesthetic and grace in its purest form
Regarded as being sacred in ancient Egypt, cat figurines are now provided a home in the house and garden. With their grace, they adorn vitrines and shelves, and they also find a shadowy place in people's front gardens. In the past, they assumed the role of sacrosanct household idols. These noble bronze animal sculptures symbolise a characteristic portrayal of our domestic cats.
Bulls as sculptures: pride and fertility cast in bronze
The mystical bull has always been revered as strong and invincible. In every cultural group it has been the symbol of pride and fertility, embodying divine powers and an air of Egyptian culture. These unique figurines exude a feeling of invincibility.
Elephants as decoration: symbols of fortune and contentment
Knowledge and strength are the characteristics that the elephant is attributed with in Chinese mythology. Its wisdom and sensitivity are also reflected in the bronze sculptures. The raised trunk is viewed as a sign of good fortune, which is why the elephant as a lucky charm is welcome as a bronze figurine in every home, bestowing the inhabitants with luck and confidence.
Sculptures as humankind's oldest form of art
The oldest form of art in the history of humankind is the sculpture. The most primitive forms were created during the Stone Age in the form of tools intended for everyday use. The first real sculpture was a lion humanoid that, according to estimates, was created 35,000 years BC. Nowadays, sculptures are an integral part of the contemporary art scene. Created from different materials and formed into a wide variety of shapes, sculptures let the hearts of art enthusiasts and laymen alike beat faster.
Timeless art that lasts through epochs
As bronze sculptures can be adapted to the respective epoch and artistic genre, they never go out of fashion. At the same time, the high artistry and modest elegance of the material enables the bronze figurines to give off an air of unobtrusiveness. Furthermore, they adapt to a room's interior design and the existing home accessories in a discrete way. Contemporary art and abstract sculptures in gardens and on terraces, on the other hand, enthral many an art lover with their extravagance.
Viennese erotic nudes
Erotic nudes are small sculptures that are cast in bronze. A unique characteristic of them is that only Viennese producers were allowed to create them. During the 19th and 20th centuries, these sculptures were widely spread, whereas nowadays, they more often are popular with collectors. Around 1900 there were a lot of producers of erotic nudes, however, a lot of them had to close their shops in the following decades. Additionally, a lot of the original Viennese erotic nudes were melted down in order to produce weapons and ammunition between the two world wars. Now, there are only a few producers left who manually create Viennese erotic nudes. In our Bronze Shop you will find a wide-ranging assortment of Viennese erotic nudes for sale, originating from artists such as Duprè, Lambeaux, Milo and Zach.
Viennese erotica with suggestive and creatively erotic figurines
Erotic nudes is the name given to Viennese bronze figurines that were depicted in the nude. There are several different portrayals, naked women who are in various more or less suggestive situations being the most popular scenarios. Those were produced for smoking rooms and especially men were delighted by those unique specimen. Also mythical creatures like fauns or devils were depicted, often in the middle of sexual acts with women, female slaves or a phallus. There were next to no limits for Viennese erotic nudes, which is why they are so treasured and well-renowned.
Contemporary art and minimalistic bronze sculptures
The bronze depiction of the human or animalistic body leads to modest and clear lines in contemporary art. The reduction to what is most important leads to an accentuation of the movement or idleness, the gestures and facial expressions of the sculpture. With moved bodies, this leads to the impression that the flow of movement is standing still for a moment. Therefore, contemporary sculptures stimulate the imagination and emotions of the viewer. The depicted figurines range from solitary figures or animals to couples or even groups of people. Some bronze sculptures portray a nude female dancer in motion who is sometimes playing with a ball, or they show a dancing couple which seems to have paused their dance for just a moment.
Buying sculptures at Bronze Shop
The desire for elegantly decorating one's own living or business space by itself often leads to the question whether contemporary bronze sculptures should be included in the furnishing ideas. Bronze figurines very distinctively express one's own taste and, if chosen wisely, are always an aesthetic eye-catcher. The same is true for the decoration of gardens, where some objects can even have a meditative appeal if the surrounding area is designed accordingly. Contemporary sculptures possess a unique expressiveness thanks to their own style and are therefore very popular.
Where can one buy bronze sculptures?
Bronze sculptures and figurines can be bought both on-site as well as in an online shop. The advantages of online shops are detailed photos and descriptions of the objects. Additionally, you are able to choose which sculpture suits you best at your own pace. Due to fast shipping options, the ordered bronze statue will also arrive quickly and safely at your place. Consequently, you will not have to worry about a way of transporting the object from the store to your home. This is a tremendous advantage, especially when it comes to large sculptures.
What should be taken into account when buying works of art?
If one should buy an original sculpture or a bronze statue that is part of a limited edition, there are some things one has to consider in addition. In any case, a certificate should be delivered with the bought object, which is a record of the particular edition, the edition number and the year in which the object was created. The signature of the artist can be found on the sculpture. In our Bronze Shop, you will find detailed photos of every figurine and sculpture as well as information about their authenticity, certificates and signatures.
Purchasing art is a matter of trust
This statement is true for both the analogue and the digital world, the latter of which nowadays offers the customer a remarkable selection of works from every branch of the visual arts. Reliable retailers have bronze sculptures and bronze figurines of every style and every artistic epoch in their range of products — from figurative works to surrealistic pieces and even to contemporary art. They supply detailed descriptions of the sculptures, provide information about their size and weight and one gets to know something about the manufacturing method as well as the artistic process. The artist is usually introduced extensively in a portrait and some providers also show short videos of the manufacturing process and about the artist.
Beauties made of bronze — sculptures and figurines
Bronze sculptures and figurines are carefully created works of art with their own expressions. The manufacturing process is quite elaborate: starting with an idea and its implementation as a model of which is then taken an impression, and culminating in the casting of the object, which can be done in several different ways. This kind of creative work is part of every sculpture and apart from the artistry, it is the underlying thoughts and ideas that contribute to the making of these works of art. One often likes to have a close look at the objects, inspecting them thoroughly, paying attention to the texture and its effects. One wants to twist and turn and touch them, and to observe the lights and shadows on their surfaces.
However, does the option of buying bronze sculptures for sale online not pose a stark contradiction to this? Does one resign from the possibility of sensually perceiving the sculpture? Or is it the other way around, as one is presented with a much wider range of goods and with reliable vendors who know how to put those works of art in the limelight? Maybe this way, one discovers new exhibits and hitherto unknown artists or motifs one did not think of beforehand.
Advantages of shopping online
First and foremost, it is the incredibly large assortment of goods that online vendors are offering nowadays. As is true for all segments, this also applies to the art market that offers bronze sculptures and paintings for sale. Besides the wide selection of works, it is the attention to all the little details that can be better shown online than by an on-site vendor.
One can be sure that at the online shop, the selection of exhibits has been chosen with a high level of expertise, that the objects have been carefully researched and additionally, all vendors offer the right to return the piece. You are offered editions and limited series and collectors can use this to find works of artists or sculptures that they have wanted to buy for a long time. All the important information about dispatch times and shipping conditions as well as possibilities of contacting us directly can be found on every single product page.
At Bronze Shop, you will also profit from many other advantages. All figurines and sculptures are sent free of shipping costs to your preferred delivery address. Therefore, you will only pay for the sculpture — there are no other hidden costs for you. In order to make sure that you will be able to get your bronze figurine or bronze sculpture as fast as possible, we guarantee that we will make your order ready for dispatch and send it to the shipping company within 48 hours. Shipping usually lasts 1-2 days, which means that you will already receive your sculpture 3-4 days after completing your order.
Sometimes it might occur that the purchased products are not to one's liking after all. In this case, we have a 14-day right of return policy. In order to make the transaction easier, you also have the possibility to buy all products at Bronze Shop on account. Consequently, you will only have to pay once you were able to take a closer look at the objects. Additionally, you have several other payment options, so just choose the one that best suits you. Ranging from purchases on account to immediate transfers, PayPal and credit cards to direct debiting or cash on delivery — we offer you the suitable method of payment for every situation.
By the way, if there is a bronze sculpture or figurine that particularly catches your eye, but you are not able to afford it at the moment, you can also fall back on our handy instalment payment options.